By Matthew Robertson, Epoch Times | December 26, 2014Last Updated: December 27, 2014 6:40 am
Tibetan writer Tsering Woeser. (Courtesy of Tsering Woeser)
Tsering Woeser, a well-known Tibetan writer and activist, reported that Facebook deleted one of her posts about a self-immolation in Tibet recently.
"I'm shocked," she wrote in a post about the deletion. "From 2008 when I registered my Facebook account, for six years, this is the first time I've encountered a post deletion." She said that now it appears Facebook has it's own "little secretary," referring to an enforcer of political censorship.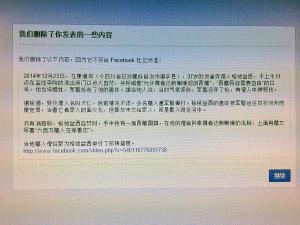 The picture she provided shows a note from Facebook explaining that the post had been deleted because it did not "conform to Facebook community guidelines."
The post referred to the self-immolation of the 38-year-old Tibetan monk Pawo Kalsang Yeshi, the 142nd to set themselves on fire in protest of Chinese rule in Tibet. The immolation took place in Dawu county of the Garze Tibetan Autonomous Prefecture in the province of Sichuan, at about 11 a.m. outside the gates of a police station attached to a Tibetan temple that is under government control.
Woeser linked to a video, which was also posted to Facebook (and later also deleted). It is unclear whether the video was visible in the initial post.
For detail please visit here