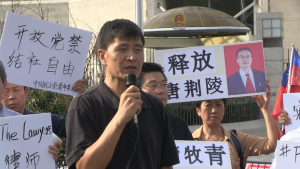 UPDATED at 11:45 A.M. EST on 2015-08-14
Chinese and U.S. officials wrapped up the last day of bilateral human rights talks in Washington on Friday, following growing calls for a tougher line with Beijing on human rights.
Dozens of protesters gathered outside the Chinese Embassy in Washington on Thursday in protest at the country's human rights record, citing a recent crackdown on China's embattled legal profession in particular.
"The Chinese Communist Party is a bandit party!" shouted some protesters, while others chanted, "Release the rights lawyers!" and "Give back the money you stole from the people!"
The protest came after a dozens of Chinese rights lawyers called on the United States to put pressure on Beijing at a bilateral human rights dialogue, in the wake of a nationwide crackdown on the country's embattled legal profession and a slew of repressive laws.
They said previous dialogues have done little to improve matters for peaceful critics of the government or for those who seek to stand up for their legal rights using the judicial system.
Rights lawyer Ye Xiangxin, who signed an open letter to the U.S. government, said it was time the U.S. government took "concrete steps" to put pressure on Beijing on human rights.
"Some of those detained still haven't received a single official document related to their detention, and I really think they should look into that," Ye said.
He said many are concerned that the lawyers who have been "disappeared" are at high risk of torture.
"The majority of lawyers held in the crackdown that started on July 9 or 10 are under residential surveillance [at undisclosed and unofficial locations], and the risk of torture is much greater under residential surveillance than it is in a [police-run, official] detention center," he said.
Meanwhile, U.S.-based independent economist Qin Weiping, who took part in the protest, said the China-U.S. human rights dialogue shouldn't just be a symbolic affair.
"China and the U.S. are the largest and second-largest economies in the world, and that means they should carry more of the responsibility for world civilization," Qin said. "The human rights situation in China is absolutely terrible right now."
"We are seeing demolitions of crosses, persecution of rights lawyers … Controls on the Internet are getting tighter and tighter, and there is no guarantee of freedom of expression for citizens," he said.
"I think the human rights of 1.3 billion people have been violated, and I hope that [the dialogues] will raise public awareness and contribute to an improvement."
At the top of the agenda
Assistant Secretary Tom Malinowski in the State Department's Bureau of Democracy, Human Rights, and Labor said the crackdown on lawyers had been at the top of the agenda at his talks with Chinese counterpart Li Junhua.
"We called for the immediate release of lawyers still being held and charged with crimes including Wang Yu, Zhou Shifeng, Li Heping, and Liu Xiaoyuan, among others," Malinowski told a news conference on Thursday.
U.S. officials had also called for all remaining charges against the feminist five — Li Tingting, Wu Rongrong, Wei Tingting, Wang Man, and Zheng Churan — who were detained ahead of International Women's Day and later released on "bail."