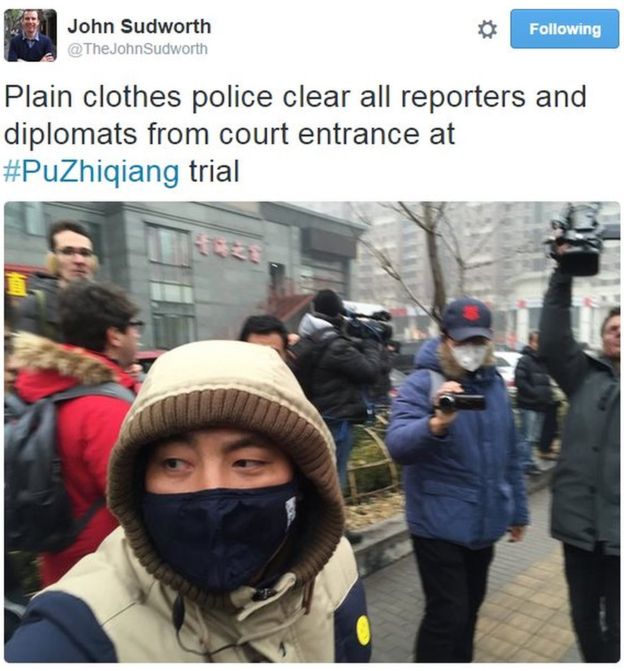 Influential civil rights lawyer Pu Zhiqiang is finally set to face trial this coming Monday in Beijing for his politically controversial online comments.
"[But] he said he didn't think he had incited ethnic hatred or provoked trouble".
Friends and supporters of Pu Zhiqiang attempted to hold up placards defending him, and chanted "Pu Zhiqiang is innocent", before being set upon by security forces in plain clothes.
Police forcefully barred observers – including diplomats, journalists and supporters – from entering the courtroom. A year after his detention, Chinese authorities began a major crackdown that led to the arrest of at least 230 lawyers across the country, some of whom are still missing.
"Lawyers and civil society leaders such as Mr. Pu should not be subject to continuing repression, but should be allowed to contribute to the building of a prosperous and stable China".
A spokesperson for the United States Embassy in Beijing reportedly expressed "great concern" over the incident, while the Foreign Correspondents' Club of China condemned "the harassment of and violence against" reporters covering the trial.
China routinely prosecutes activists and dissidents under a law forbidding "picking quarrels and provoking trouble" and dismisses any criticism of its rights record. Dan Biers, an official at the U.S. embassy in Beijing, was jostled down the street by police as he tried to read out a statement denouncing the lawyer's treatment.
Police tried to prevent Biers from reading out a statement near the courthouse, pushing him and foreign reporters out of the way.
"Pu's trial is extremely important – he's the ultimate canary in the coal mine", Maya Wang, a China researcher for Human Rights Watch said. We need freedom of speech! One accused the Communist Party of "secrecy, cheating, passing the buck, delay" and another criticised its policies towards the troubled Muslim, Uighur-minority province of Xinjiang. On WeChat, a popular messaging service similar to Facebook, some users shared posts in support of the lawyer, while others switched their profile pictures to an image of Pu.
In a trial that lasted less than four hours, another defence lawyer, Si Weijiang, said Beijing's Number Two Intermediate People's Court considered the evidence – seven posts Pu made on a microblog between 2011 and 2014.
Pu took up the law after joining the pro-democracy demonstrations on Tiananmen Square in 1989, which were violently broken up by the army. He said Pu was not asked whether he admitted to his guilt during the trial. Pu also mocked Mao Xinyu, who is Mao Zedong's grandson.
The charges against Pu Zhiqiang are based on seven of his 20,000 messages on the microblogging site Weibo.
Also on Monday, a Beijing court has recommended a suspended death sentence for the wife of disgraced Politburo member Bo Xilai be commuted to life in prison, after she showed repentance and committed no further crime, Chinese media said on Monday.
Source: http://financialspots.com/2015/12/21/chinese-law-on-trial/